Aquatic Habitat Program
The Aquatic Habitat Program works to improve conditions for aquatic life through better management or rehabilitation of existing resources, and collaboration with partners.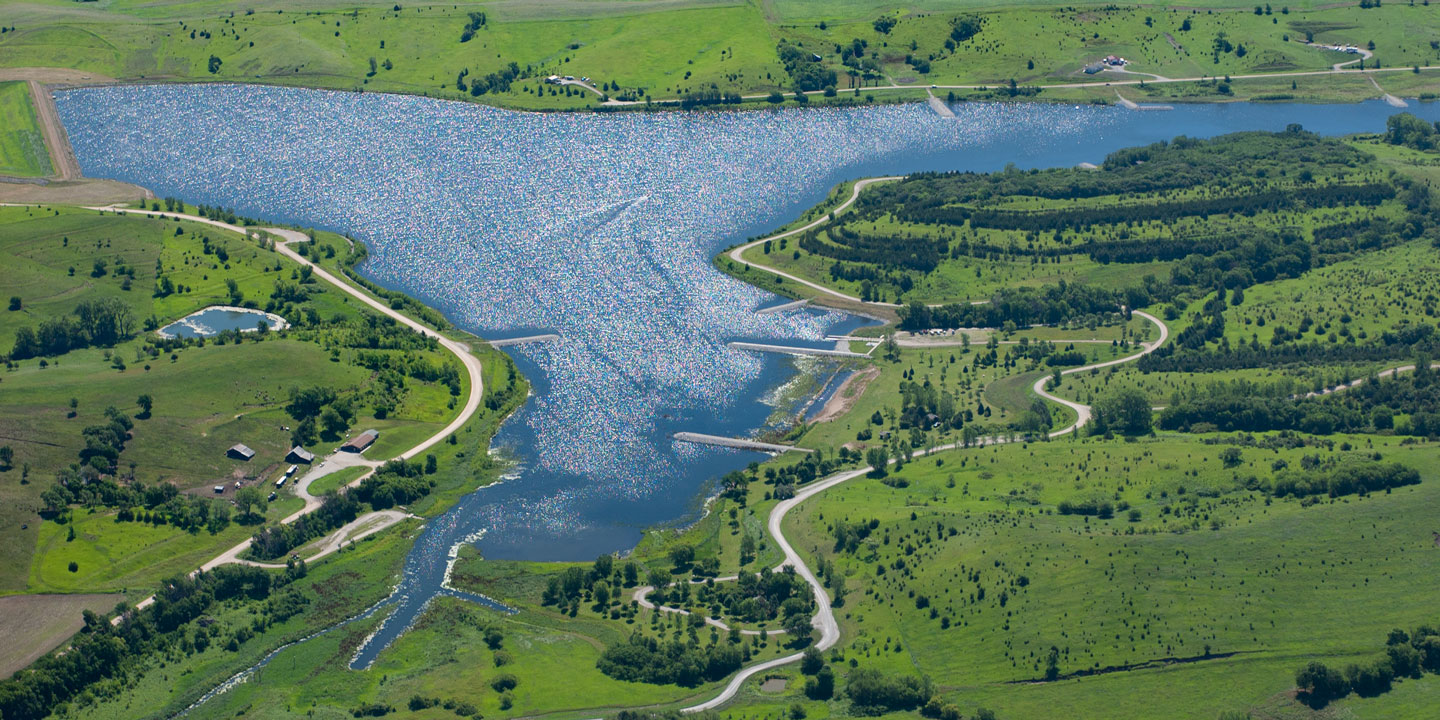 The Aquatic Habitat Program works to improve conditions for aquatic life through better management or rehabilitation of existing resources. Since its inception in 1997, the program has generated more than $90 million for improvements to 137 water bodies in Nebraska.
Funding for this program is provided by the purchasing of the Aquatic Habitat Stamp, which is included in the price of a fishing license. Nebraska was the first state in the nation to require such a stamp, without which these projects wouldn't be possible. The program's impact goes beyond fish. Nebraskans who enjoy recreating on or near the water also benefit.
Benefits beyond fish
In addition to improved fisheries, the Aquatic Habitat Program has wide-ranging benefits for Nebraskans. They include:
Improved accessibility to water through the installation of boat ramps, kayak launches, fishing piers and sidewalks or paths to the waterfront.
Improved water quality and clarity that benefits the entire watershed.
Creation of wetland and wetland complexes, which promotes species diversity and richness, filters pollution, stores sediment and captures nutrients that otherwise would cause harmful algae blooms.
Generates recreational opportunities through the improved health of a waterbody, including kayaking, camping, hunting, wildlife viewing and outdoor photography.
Increases biodiversity through attracting or creating habitat for migratory and water birds, muskrats, beavers, otters, aquatic plants and also deer and turkeys.
Designing fish-friendly reservoirs
Restoring new life to ageing waters can be expensive. The program can provide technical assistance on reservoir design and construction methods to ensure new reservoirs are designed to incorporate features that extend their functional life spans. Effective planning will ensure reservoirs can fully support healthy fish populations for people to enjoy.
In certain cases, the program can also provide financial assistance to incorporate in-lake fish habitat, shoreline angling areas and boating access to new public waters.
Featured projects
Aquatic Habitat Projects have been conducted on every type of water body in Nebraska. Below, explore a few projects that have been completed since the program began.
History of the Aquatic Habitat Program
The Aquatic Habitat Program is the first of its kind in the nation, and it has received national attention for its innovation.
The Aquatic Habitat Stamp was created in 1997, and its passage through legislation took a tremendous amount of preparation and planning. Still, big questions had to be addressed:
"How will we prioritize which waters will be worked on?"
"What are the aquatic habitat problems for each location and how can they be fixed?"
So, planners began identifying waters in the state that were impaired and outlined the work that was needed to restore them. The slogan "New Life for Aging Waters" was born from this effort, and thus, the Aquatic Habitat Plan was created. Funding is restricted to only those waters listed in the plan.
Fishing Permits
Purchase stamps, resident and non-resident fishing permits here.
About Nebraska Game & Parks
We're a family of passionate, innovative professionals who work together to connect people to the natural world and support conservation in Nebraska.