Public Access Atlas
For walk-in hunting, trapping and fishing in Nebraska
The Public Access Atlas identifies and consolidates Nebraska's public access resources for the benefit of hunters, trappers and anglers. It displays over 1.2 million acres of publicly accessible lands across Nebraska including state, federal, and conservation partner lands as well as privately-owned lands enrolled in the Open Fields and Waters (OFW) program. By working cooperatively, the Nebraska Game and Parks Commission and its partners aim to increase hunting, fishing and trapping opportunities in Nebraska.
Printed copies of the Public Access Atlas are available at Game and Parks offices and wherever hunting, fur harvest and fishing permits are sold. The printed atlas is published and distributed to vendors in late August each year. However, for the most accurate, up-to-date information, we recommend you view the atlas online. Please note that for a variety of reasons, the Public Access Atlas can change anytime. Those changes might not be reflected here immediately, though we work hard to make updates as soon as possible.
Interactive atlas map
An interactive GIS map of the Public Access Atlas. The interactive atlas map provides users the opportunity to scout out areas before hunting or fishing them by using aerial imagery. Click or tap on individual sites for pertinent regulations as well as links to more information. Various big game and waterfowl units/zones can also be selected and displayed. Contact our maps team with technical questions.
Digital flipbook atlas
View a digital version of the printed Public Access Atlas. Unlike the printed book, map sheets are updated in this flipbook as changes occur. In portions of western Nebraska, thousands of additional acres of tall wheat or milo stubble and adjacent habitats are enrolled in OFW. These sites can be viewed in our Stubble Guide below and will be updated in the online Stubble Guide as changes occur.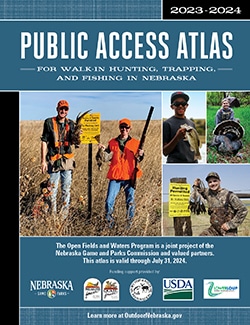 Offline atlas (mobile friendly)
Note: The offline atlas is currently transitioning to a new software called "Field Maps." The offline atlas will be updated with new sites and information soon.
View Public Access Atlas sites on a smartphone or tablet. Download the atlas map on a mobile device for use on or off the grid (internet connection not required once downloaded). The navigation tool shows location in real-time. Check for updates before heading afield for the most up-to-date atlas sites.
Stubble Access Guide
The Stubble Access Guide is published in early fall and displays additional tall wheat and milo stubble fields (and associated unfarmable pockets) open to walk-in hunting across portions of western Nebraska through the OFW program. Given the timing of harvest, tall stubble fields typically are enrolled after the printing of the Public Access Atlas. Pick up a Stubble Access Guide to find these sites illustrated in light purple (other publicly accessible lands still shown), or request a copy be mailed to you. Stubble sites will also appear on all online versions of the Public Access Atlas after Oct. 6. The Stubble Access guide is only valid through Jan. 31. Tall, undisturbed stubble has been shown to provide multiple benefits to pheasants, quail and other wildlife from the end of summer through winter, and these areas are often underutilized by hunters.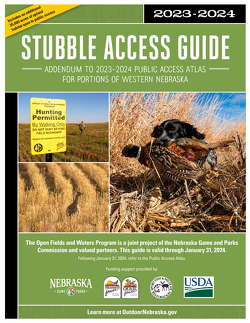 Google Earth
View Public Access Atlas sites within Google Earth by using our KMZ files. Start by downloading Google Earth and then download our KMZ files. Then import the KMZ files into Google Earth to view sites. Users can get driving directions to specific sites, import GPS data, set placemarkers on properties and more. Visit Google Earth help center for additional assistance.
Hunting Permits
Purchase hunting, big game and turkey permits, as well as supertags and combo lotteries.
Fishing Permits
Purchase stamps, resident and non-resident fishing permits here.