I-80 Lakes Aquatic Habitat Project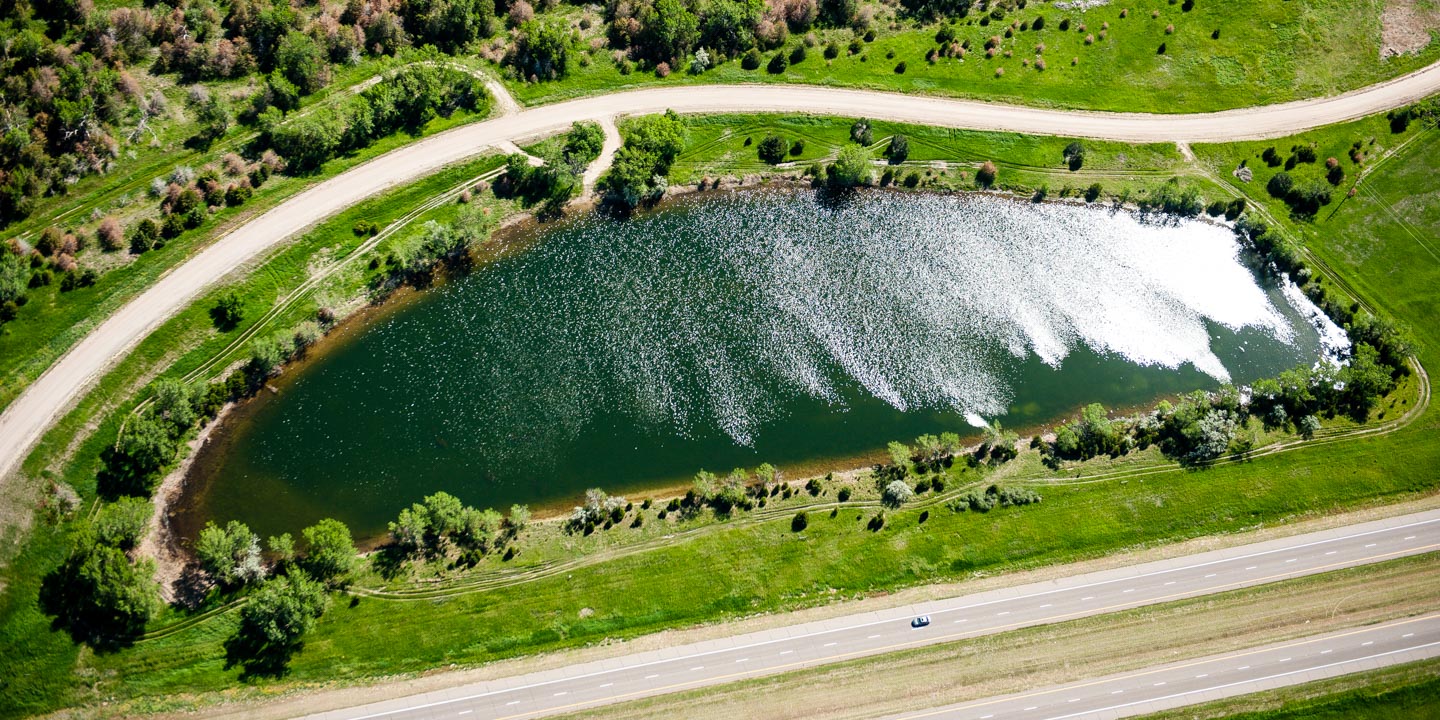 Why we did it
Just off of Interstate 80 in western Nebraska, particularly the Platte River Valley, lie several lakes that are popular spots for anglers. A number of these spots have received renovations in recent years to improve bank fishing access as a part of the Nebraska Game and Parks Commission's Aquatic Habitat Program and Angler Access Program. Several I-80 lakes also were in need of improved habitat that would concentrate fish for anglers.
How we did it
These projects were conducted in 2015, with additional work done to the Hershey Wildlife Management Area boat ramp in 2017. In total, seven I-80 Lakes in Lincoln County received improvements, including one angler platform at each site — Hershey, Birdwood, Fremont Slough, West Maxwell, West Brady, Brady and West Gothenburg — that is Americans with Disabilities Act compliant.
Construction of angler platforms occurred to provide level and undeterred access for bank anglers. Other facets of the overall project included tree removal, fenceline construction and parking expansion.
In conjunction with bank access improvements, Motorboat Access funds were used to improve boat ramps at each of the sites.
Several of these I-80 Lakes, including Birdwood and Willow Island, also were enhanced with fish attracting structures. Trees along shorelines were hinge cut and dropped into the water to provide shallow cover while cedar trees were cut from surrounding wildlife management areas and positioned on the ice or sunk using a large boat. Artificial structures were constructed and placed for the same reasoning, and should be more snag proof and provide longer lasting habitat structure. These brush piles congregate game species such as bluegill, crappie and largemouth bass.
Pre and post-project shoreline at Sandy Channel SRA
Sandy Channel State Recreation Area
Lakes 2, 4 and 8 received improved shoreline and boat access. Lake No. 8, the largest in the area, had a handicap-accessible fishing pier added and more than 500 feet of shoreline cleared and reshaped for better access. Lake No. 2 received a concrete boat ramp and 400 feet of shoreline developed. Lake No. 4 also received a concrete boat ramp, 500 feet of shoreline cleared and walkways added near the water's edge.
Boat ramp and fishing pier at West Maxwell
West Brady, West Gothenburg and West Maxwell
A handicapped-accessible boat ramp and fishing angler platforms were added to these waterbodies between Kearney and North Platte along 1-80 in order to improve bank angler access.
Hershey Wildlife Management Area
A boat ramp was replaced and fishing angler platform added to provide level and undeterred access for bank anglers. The shoreline along the southeast corner of lake also was cleared to improve fishing access and a boat ramp was improved.
Benefits from these changes
Because of these improvements, anglers at the various lakes have easier shoreline and boat access to the strong fishery populations that are already conveniently located along Interstate 80.
The Aquatic Habitat Program
The Aquatic Habitat Program was created in 1997 and was the first program of its kind in the nation. Since then hundreds of waterbodies across the state — everything from lakes to streams to rivers to ponds — have been renovated, improving aquatic life and water quality for Nebraskans.
Fishing Permits
Purchase stamps, resident and non-resident fishing permits here.