Valentine National Wildlife Refuge Aquatic Habitat Project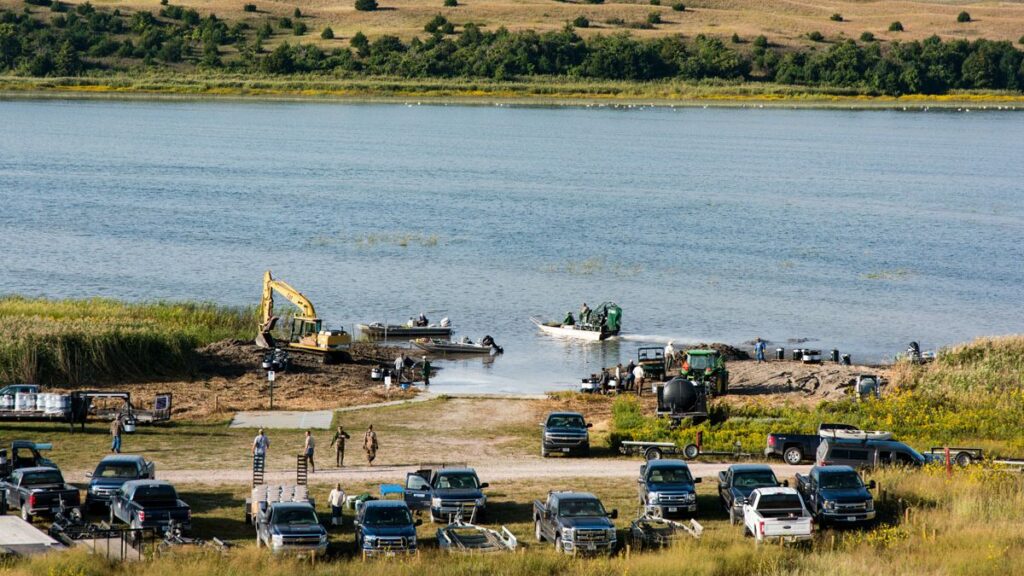 Why we did it
The goal of this multi-year project at Valentine National Wildlife Refuge was to limit fish passage and control high densities of carp at Watts, Hackberry, Dewey, Whitewater, Clear, Willow and Pelican lakes.
How we did it
Work began in 2015 to create control structures, berm improvements, fish barriers and dredging at each of the individual lakes. This process, which lasted through 2016, also included channel clean-out between the lakes.
After the physical construction, rotenone treatments at each of the lakes began in 2018. Nebraska Game and Parks salvaged game fish and transferred them to other public waters prior to the treatments and removed certain length limits for anglers.
Watts was renovated in 2015; Pelican, School and Whitewater lakes were renovated in 2018; Hackberry and Willow in 2021; Dewey, Clear and McKeel fish renovations are in the planning stages.
Benefits from these changes
Managing carp migration and removing them from Valentine National Wildlife Refuge's waters paves the way for an enhanced fishery. This complements several recent improvements to the refuge's nine public fishing lakes, including roads and angler and boater access.
Project partners
U.S. Fish and Wildlife Service
The Aquatic Habitat Program
The Aquatic Habitat Program was created in 1997 and was the first program of its kind in the nation. Since then 100s of waterbodies across the state — everything from lakes to streams to rivers to ponds — have been renovated, improving aquatic life and water quality for Nebraskans.