Floating Playground
An adventure on the water.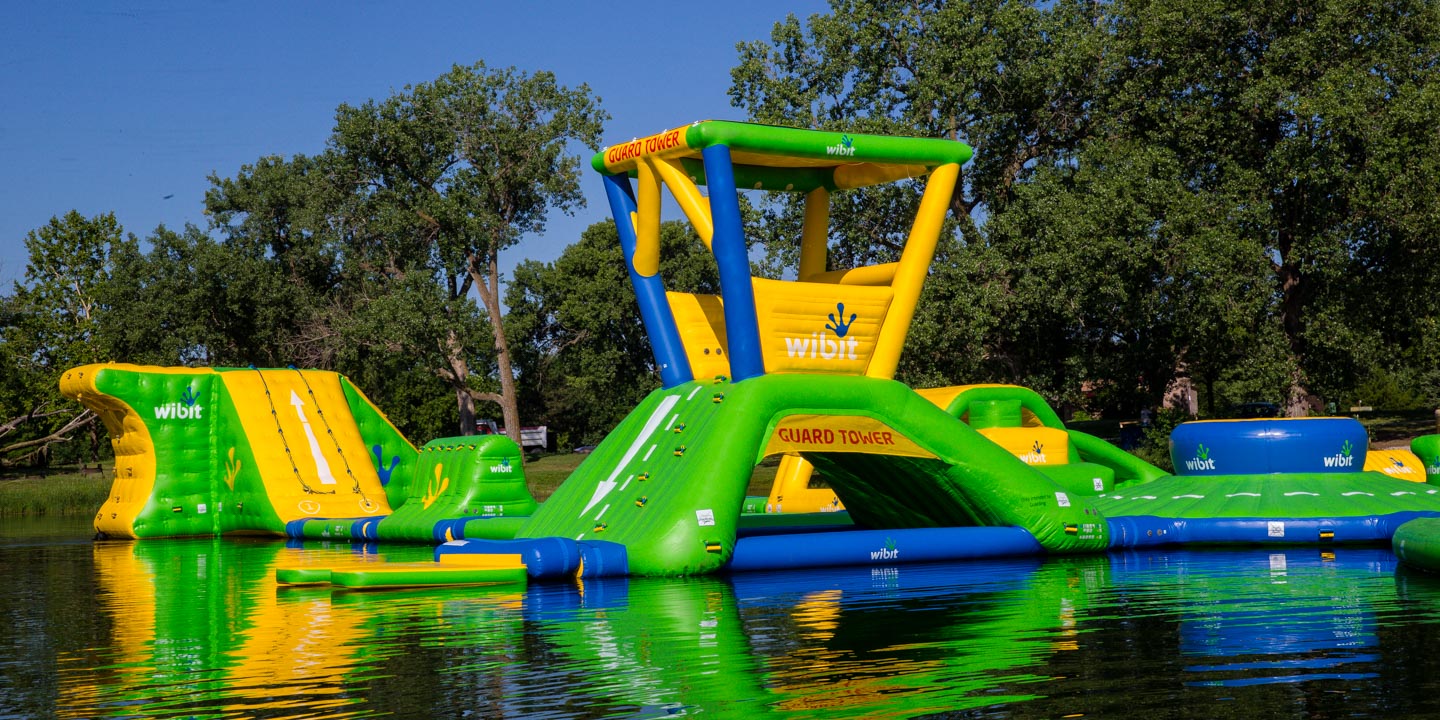 The floating playground is closed for the season.
The floating playground at Louisville State Recreation Area offers exciting and challenging obstacles including a climbing wall, dome, monkey bars and much more on Lake #2. Participants must be at least 6 years old and able to swim. Lifeguards are on duty.
Hours: The floating playground is currently closed for the season.
Tickets: Tickets are sold in person only at the kiosk near the floating playground. Tickets go on sale 30 minutes prior to each session.
Admission Cost: $18 for adults (age 13 and over) and $13 for children (age 12 and under) for a 90 minute session. Admission includes rental of required life jacket. Life jackets are required for anyone using the playground, and are provided.
Waiver: Parents or legal guardians must sign a waiver for each participant under the age of 19. Waivers must be signed in person at the park.
To stay safe during use of the floating playground, please follow the following safety precautions:
Only use during official opening hours after registration with the operator.
Only use in the presence of a guard.
Do not use in darkness or when there is lightning.
Do not jump from high products onto other objects or people.
Use the products responsibly to ensure you don't injure yourself or others.
No diving or sliding head first.
Do not dive underneath the products.
No smoking is allowed.
No access to the park after consuming alcohol or drugs.
No food or drink on the floating playground.
Remove watches, jewelry, keys or other sharp objects before entering.
For safety reasons, do not access if you are pregnant.
No access to children under the age of 6 years.
No access to people shorter than 3 foot 7 inches.
Ensure there are no people or objects in the water before jumping from any area of the floating playground.
Do not ingest lake water.
Guard may expel people who endanger their own safety or that of others.
Park Events
Our 76 gorgeous state park and recreations areas host a plethora of events throughout the year. From bird hikes to kayak races, Living History events to family outdoor days, our parks host something fun for every outdoor enthusiast.
Reservations
Reservations are accepted for cabins, lodge rooms, and group lodges up to one year in advance of the arrival date. Reservations for camping are accepted up to 180 days in advance of arrival date. The Reservation Call Center hours are Monday-Friday 9 a.m. – 6 p.m. (CT) and closed on holidays.