Nebraska's state park system offers a wide variety of trails for a wide variety of uses. Rustic dirt paths, challenging mountain biking courses and wide, paved trails perfect for a family stroll are all available within Nebraska's state parks and recreation areas. Many trails offer excellent wildlife viewing opportunities and scenic vistas. Many areas offer printed maps available at the park office.
Use the interactive trail map to search for trails near you. View maps and find information on trail width, surface, permitted uses and features found along each trail in the Nebraska state park system.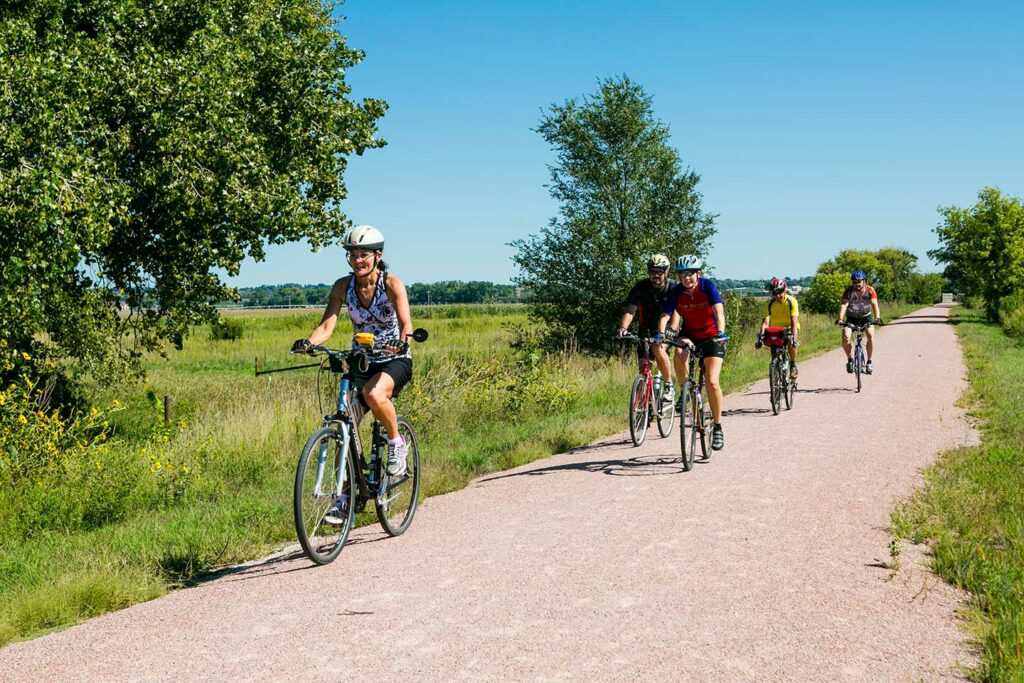 The Cowboy Trail
Spanning 321 miles, 192 miles which consist of improved limestone surface, the Cowboy Trail is the longest former stretch of railroad to be converted into a trail in the United States. The trail allows for biking, horseback riding and hiking and spans from Norfolk to Valentine, passing through many small towns.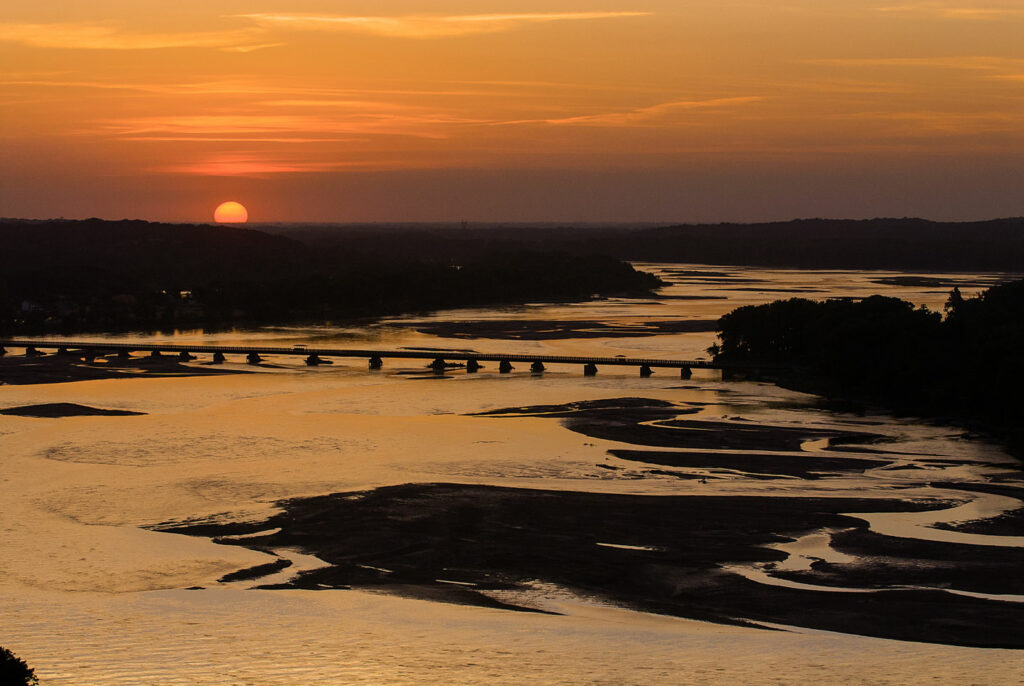 Lied Platte River Bridge
This former abandoned Rock Island Railroad bridge near South Bend connects short trails on either side of the Platte River and offers a beautiful view of the river and surrounding scenery. Nearby attractions include Platte River and Mahoney state parks, as well as Schramm Park State Recreation Area. The Lied Platte River Bridge is managed by the Papio-Missouri Natural Resources District.
Featured park trails
Some of the state's most popular trails.
Branched Oak State Recreation Area offers six-plus miles of hiking, biking, snowmobile and horseback trails. A two-mile trail for hikers and bikers may be accessed across the road from Middle Oak campground. At Area 6 Liebers Point, a hiking trail guides walkers through flowering crab trees, pines and more. The area, which is very colorful during the spring and fall, is called the Hans Burchard Arboretum.
The 33.5 miles of trails in and around Chadron State Park are among the most scenic in the state. The trails run through the beautiful pine forest and take you high above the park scenery to some breathtaking overlooks. Trails are maintained and marked to help guide you through some of the most scenic views of the country side. Chadron State Park's trails are mostly grass, but can take those who travel them amongst the rocky buttes as well.
The 130 miles of trails at Fort Robinson State Park are diverse and scenic and include varying degrees of difficulty and distances for everyone to enjoy. Hikers have everything from the White River trail along the old railroad right of way, to the steeper trails in the buttes overlooking the White River and Soldier Creek valleys. Park staff are working to mark main trails with names and distances to make the park's trail system more user-friendly.
Indian Cave State Park is known for its loess hill formations made almost entirely of windblown soils. Toward the end of the ice age, winds picked up soils that had been ground as fine as flour; this windblown soil formed the hills along the ancient waterway that became today's Missouri River.
Within these hills, there are more than 22 miles of hiking and biking trails. Day hikers will find a variety of trails to suit their taste, with the most scenic views along the Missouri River. Several adirondack shelters and tent camping sites are located throughout the parks trail system.
The park's flora and fauna is a big part of what makes Indian Cave so unique. Deer, turkey, coyotes, fox, raccoons and many other species can all be viewed along the trails. The southern flying squirrel, pileated woodpeckers and native orchids can only be seen in this part of Nebraska. The trails are open throughout the year, making Indian Cave State Park a popular destination for cross country skiing in the winter, as well as for spectacular views of the changing foliage of the deciduous trees during the fall.
Johnson Lake State Recreation Area offers eight miles of hiking and biking trails throughout the park, including the paved Larry D. Roper Trail. This mile-long concrete trail is eight feet wide and stretches from the outlet parking lot down to the swimming beach parking lot. The trail is ADA-accessible and is listed on the American Discovery trail system. It features four rest areas along the way, meandering through shaded areas that are covered by mature cottonwood trees with views of the lake and campground. There is a section that passes directly behind the first camping loop where campers can keep an eye on children playing on the trail. The walk way also offers excellent opportunities to observe many kinds of birds and different varieties of trees and remains open all year-round. In the near future this trail will connect with other sections of trail that will encompass the entire lake.
The unique Fort Kearny hike-bike trail begins at the camping area and extends for 1.8 miles to Bassway Strip Wildlife Management Area and 13.2 miles to Cottonmill Park in Kearney. The paved trail crosses both channels of the Platte River and was once a segment of the Burlington and Missouri River Railroad. Beautiful views of the Platte Valley can be enjoyed from these trails. A trail map is available at the Fort Kearny SHP visitor center.
Along the trail you can enjoy watching the many species of birds and wildlife at the covered viewing gazebo. The trail also provides a covered picnic shelter which makes an excellent stop along the trail to rest and have a picnic.
Hikers and bikers have access to six-plus miles of multi-use trail with varying accessibility. Trails at this area range in length from three-quarters of a mile just over a mile and a half. Users will find a variety of terrain, views, wildlife and plants along the way. Trail users are encouraged to continue their trek around the lake through the developed areas, including across the dam. Hikers are encouraged to wear appropriate clothing and be aware of poison ivy and poison oak in the timbered areas.
Pawnee SRA and WMA are multi-use areas, and parts of the trail system utilize WMA service roads. Trail users should be alert for hunters afield, as hunting and trapping are permitted between the first Tuesday following Labor Day and conclusion of the spring turkey season.
Area maps and more information are available at the park office.
The 17 miles of trails at Platte River State Park are situated in the heavily wooded Platte River hills and offer a wide range of scenery. Hikers can see views of the Platte River; wildlife including deer, turkeys, birds (we fletch a large number of blue birds every year), fox, bobcat, coyotes; and a beautiful natural waterfall. The dirt trails offer a scenic and natural hiking experience. They are also very popular with the mountain biking community for their changing terrain and variating difficulty options. The mountain biking trails at Platte River State Park have been named among the best in the nation. Popular trail heads at the Falls Parking Lot and Tepee Village offer water hydrants and pit toilets.
Ponca State Park has a total of 22 miles of trails that range from easy to difficult. Hiking and biking is allowed on all trails except for the park's horse trail. From Memorial Day to Labor Day, the horse trail is closed to bike and foot traffic. Motorized vehicles (including snowmobiles and ATVs) and private horses are not allowed on the trails. During the winter, groomed trails will be marked for cross country skiing. There are approximately five miles of spur trails that provide connectivity to other trails and park facilities. Ponca's extensive trail system is among the most popular trail systems at any of Nebraska's state parks.
The Lake Ogallala Hike-Bike Trail is located on the east side of Lake Ogallala inside the Lake Ogallala Modern Campground. The two-mile trail runs on top of the northern dyke that holds Lake Ogallala and ends at the Nebraska Public Power District's Diversion Dam.
Park Pricing
A park entry permit is required to visit state parks and may be purchased at the park, statewide Game and Parks offices and permit vendors, or in advance of your arrival online. View those fees, as well as attraction and amenity pricing.