Equestrian Trails
State parks throughout Nebraska offer extensive equestrian trails and many have equestrian campgrounds.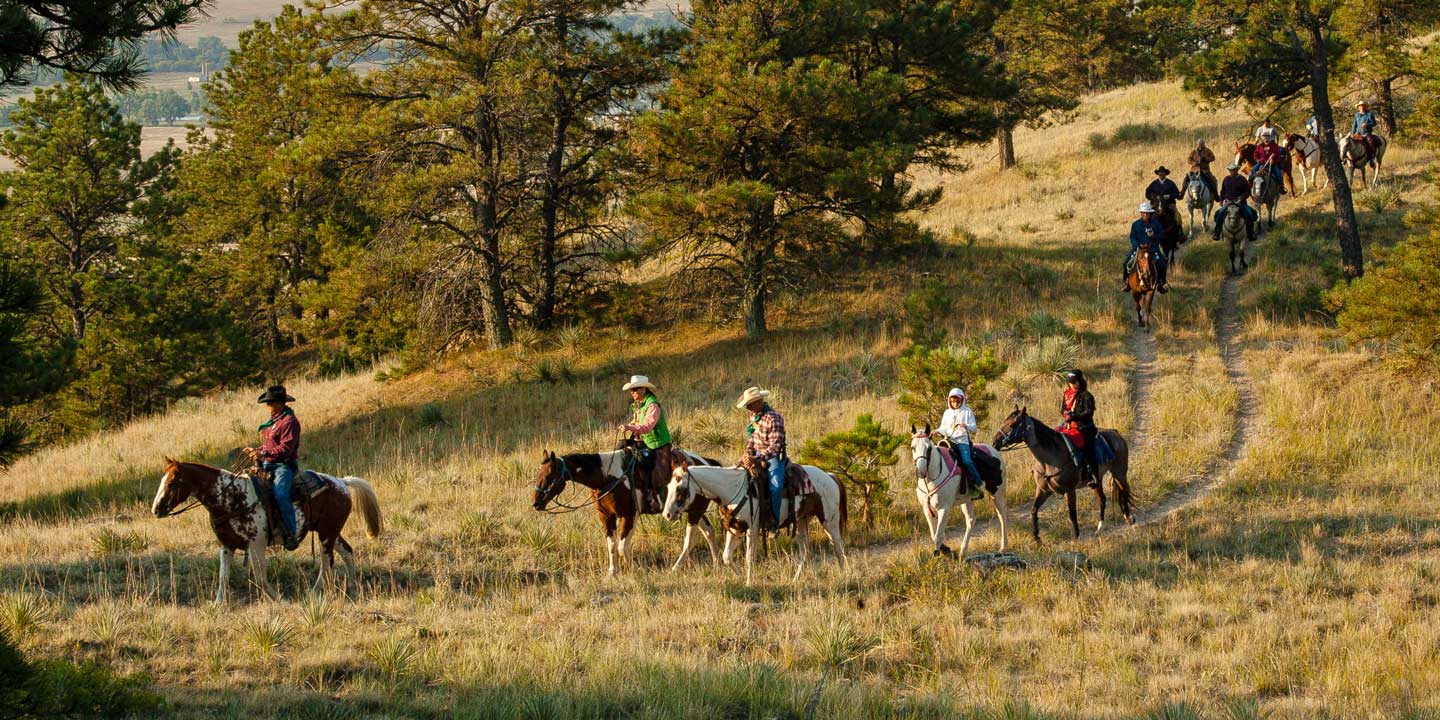 Horseback riding can be a most enjoyable and relaxing way to experience the beauty of Nebraska. State parks throughout Nebraska have extensive equestrian trails and many have equestrian campgrounds. Several locations even offer trail rides where horses can be rented.
Trails and facilities
The following parks have both equestrian trails and facilities for camping with horses:
Branched Oak has more than six miles of interlocking, multi-purpose trails that meander through trees, open grasslands and scenic overlooks on the south side of the lake. A horse camp is located in Area 2 (Homestead Campground), which offers 15 electrical rock pad campsites, water, restrooms, grills, picnic facilities, an accessible mounting ramp, hitching posts and corrals. Half of the electrical sites may be reserved up to 1 year prior to arrival.
This trail is located in northern Nebraska, starting in Norfolk and ending in Valentine. There is no camping on the Cowboy Trail, although many communities will provide users with camping, restroom and shower facilities.
The combination of an equestrian campground and scenic horse trails makes Danish Alps State Recreation Area a great destination for horse enthusiasts. The area offers 14 horse corrals, hitching posts and water within the equestrian campground. A horse trail encircles most of the lake.
Fort Robinson is a horse rider's paradise and Nebraska's premier horse destination, offering 22,000 acres of Pine Ridge scenery and cinema-worthy big sky. After a long day of riding the park's many miles of trails and fire service roads, put up your horse in a stall in the main barn. And while your horse is enjoying comfortable accommodations, kick back at one of the many campsites (primitive to full hookups) at Fort Robinson. Those who don't wish to camp can reserve a lodge room or a spacious group cabin.
For more riding, Nebraska National Forest lands offer many more miles of trails adjacent to the fort and many more trails a short trailer ride away.
Indian Cave consists of 3,052 rugged acres bordering the Missouri River. It is a pristine area devoted to camping, hiking, backpacking, picnicking and horseback riding. Indian Cave boasts 12 miles of equestrian trails and has an established horse camp for private horses in the park. Riders should carry drinking water – there are several locations in the park to obtain water. A water wagon is available for horses. Amenities include toilets, grills, tables, hitching posts and 12 corrals.
Lewis and Clark offers 6.5 miles of heavily wooded and scenic lake overlook trails. A campground has been developed with corrals for horses, water, restrooms and picnic areas.
Fort Kearny State Historical Park now offers trail rides beginning at the Boy Scout campground. The trail travels\ through the long grass prairie on the north side of the campgrounds and lakes in a ~3 mile loop. Please call Christine Wilson at (308)320-4908 for reservations.
Niobrara State Park offers 120 acres of free-range riding as opposed to designated trails. The equestrian campground provides primitive camping with one corral that will hold several horses. The corral works well for horses that are accustomed to each other. The campground is first come, first served and includes a non-modern restroom, picnic table and grill. Water will need to be bucketed to this area.
Pawnee provides a scenic ride on six miles of multi-purpose trails around its lake. For those who wish to camp with their horses, Pawnee offers a primitive camp that includes picnic tables, drinking water, fire rings and pit toilets. The area has mature trees that provide plenty of shade.
Rock Creek Station is where James Butler Hickok, "Wild Bill," killed David McCanles and began his bloody career as a gunfighter. In addition to being rich in Old West history, Rock Creek Station is also a great place to ride. The area provides a horse camp that includes 20 individual corrals that are set in groups of four, water for horse and rider, picnic tables and grills. The historical park offers five miles of trails, and adjacent to Rock Creek Station is Rock Glen Wildlife Management Area that provides many more miles of riding. However, it should be noted that the WMA's main function is wildlife-related, and riders are asked to observe special riding regulations for this area.
Two Rivers offers open riding as opposed to specific trails around 320 acres of sandpit lakes. A horse staging and camping area is available, which offers picnic tables and hitching posts. Horses must not be left unattended at the staging area. A 50-gallon drum is available to water horses.
Willow Creek State Recreation Area provides nine miles of hiking and horseback trails around the 700-acre lake. The area offers a horse campground with electrical camp pads and corrals. In addition, a horse group camp with two barbless wire fence corrals is available on a first-come, first-served basis.
Park Pricing
A park entry permit is required to visit state parks and may be purchased at the park, statewide Game and Parks offices and permit vendors, or in advance of your arrival online. View those fees, as well as attraction and amenity pricing.
Reservations
Reservations are accepted for cabins, lodge rooms, and group lodges up to one year in advance of the arrival date. Reservations for camping are accepted up to 180 days in advance of arrival date. The Reservation Call Center hours are Monday-Friday 9 a.m. – 6 p.m. (CT) and closed on holidays.