Dog training & field trials
Learn about dog training regulations, training resources and training areas for your hunting dog in Nebraska.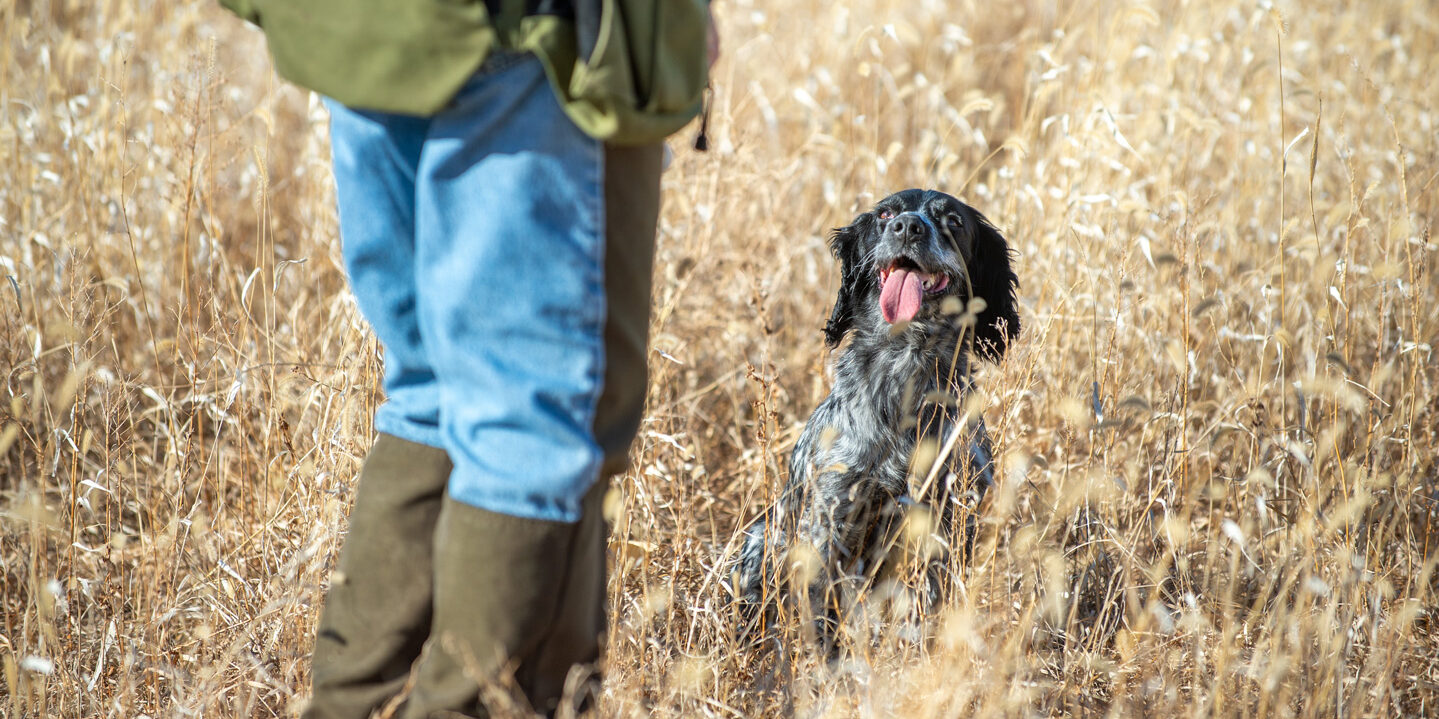 It doesn't matter if you have a field trial dog, gun dog, hunting dog, upland dog, waterfowl dog or a bird dog, all dog owners want a well-conditioned dog. Those same owners know the first steps toward a well-conditioned dog happen in the off-season.
The goal of any hunter's off-season conditioning program is to maximize a dog's hunting potential and enhance its well-being. It's important to take your dog to a veterinarian for a full physical exam before beginning any conditioning program. Be sure to tell the vet how you intend to hunt the dog and seek his advice on a proper and safe exercise plan. Ask specific questions to help determine whether your dog is physically fit and has the ability to begin an exercise program.
Dog owners should plan on six to eight weeks of preseason conditioning to regain hunt-ready status for any dog that has spent much of the winter relaxing. Dogs that enter the hunting season in unfit condition are prone to injury and may not reach the desired fitness level until late in the season, which can sour time spent afield.
The conditioning sessions can be short and fun, not lasting more than 10 or 15 minutes, and should take place three to four times a week. Hunters may conduct these sessions on Wildlife Management Areas (WMAs) From Aug. 1 through April 30. Land areas designated and specifically posted with authorized dog training area signs may be used year round for dog training.
Dog training regulations
Please be aware of the following regulations when training your dog:
For each dog involved in a session, no more than two hen pheasants and five quail may be harvested.
It is permitted on private land, provided landowner permission is obtained and dog training rules are followed.
It is unlawful for anyone to exercise, run, train, or hunt with dogs on state wildlife management areas during the period from May 1 through July 31 of each year, except on areas designated and specifically posted with "Authorized Dog Training Area" signs.
Training or exercising dogs on areas designated and posted as a "Dog Trial Area" is prohibited; such areas are restricted for field trial use only.
All game birds released for training purposes must be obtained from a captive wildlife permit holder or licensed nonresident breeder, and must be banded by the trainer or seller with official bands authorized by Game and Parks. Any person who purchases game birds from a captive wildlife permit holder or licensed nonresident breeder shall have in his or her possession a sales tag/receipt from the permit holder listing the date, species and number of birds purchased.
Game birds obtained for dog training may be kept in captivity without a captive wildlife permit for a period not to exceed 14 days following date of purchase or receipt.
Training resources
The following resources are available to assist with training:
Training areas
Five wildlife management areas (WMAs) are designated and posted as authorized dog training areas. All other WMAs are closed to dog training during May, June and July.
Hunting Permits
Purchase hunting, big game and turkey permits, as well as supertags and combo lotteries.
Season dates
With a broad diversity of species and seasons, hunters in Nebraska can have a busy year. Find our comprehensive list of season dates by species.