Become a mentor
Help teach new hunters the basics of hunting and safety through these mentorship opportunities.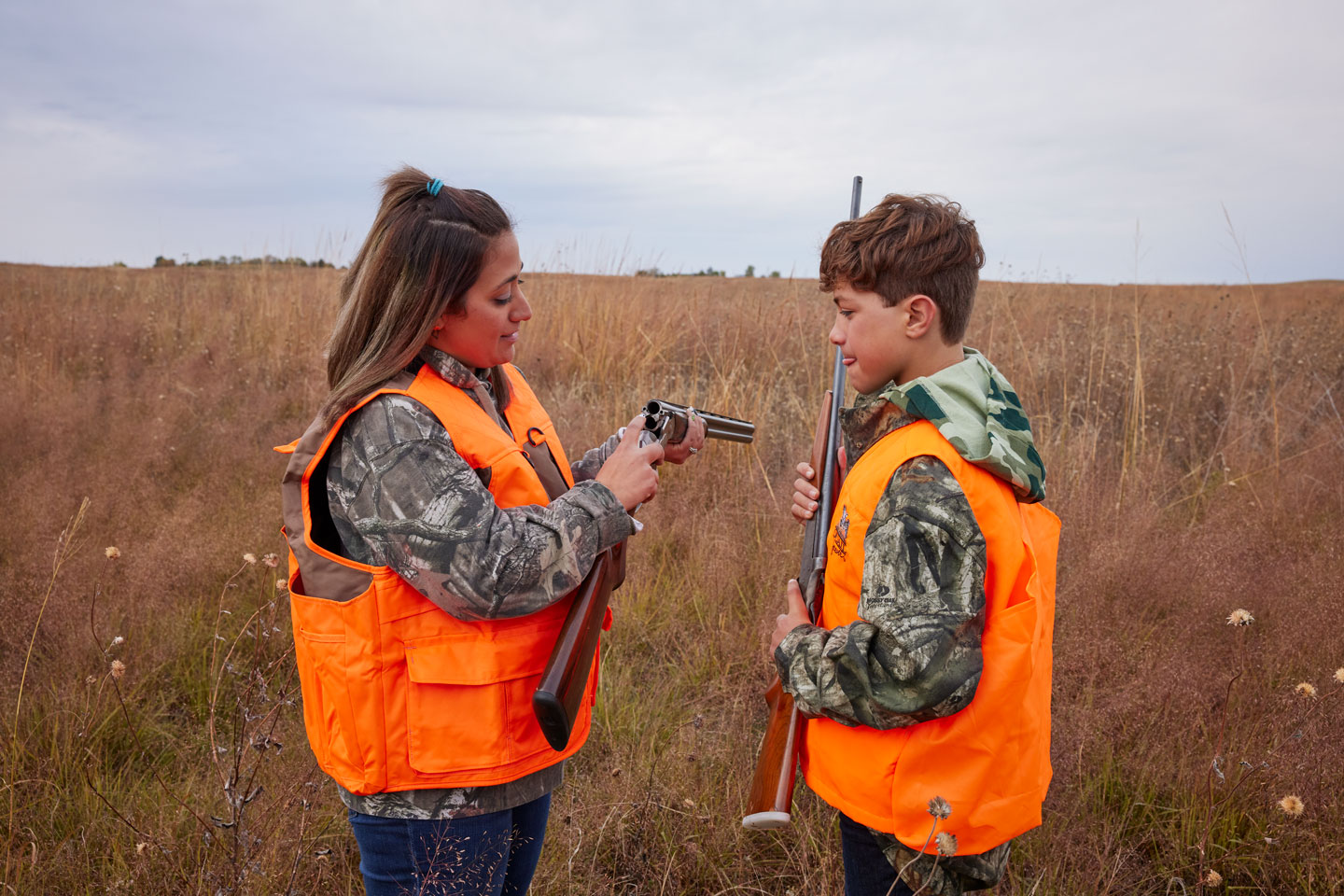 Hunting and shooting sports are about quality time spent with family and friends. Each year, thousands of hunters offer their time and talents to change the lives of family and friends. We urge you to take someone hunting, too. Hunting and shooting sports promote a deeper appreciation for the outdoors, encourage time spent with family and friends without distractions. They also ensure that the tradition of hunting remains strong and vibrant. Mentoring will change your life forever, too. Find out more at the links below.
Become a Hunter Education instructor
Experienced hunters who are passionate about safety and sharing their love of the sport are invited to apply to become a hunter education instructor. Join nearly 1,000 volunteers across the state in teaching safety, ethics, knowledge and skills to the next generation.
Join the Learn Hunting Network
The Learn Hunting network pairs beginning hunters with experienced hunters in their area. You will be offered additional educational training in the program. Your safety and privacy are important. Each student using this platform has undergone a safety screening and you decide if you want to work with them.
Become a 4-H shooting sports instructor
In order to run a club, county, or multi-county 4-H shooting sports program, instructors must be certified by Nebraska 4-H. Nebraska 4-H has opportunities for those passionate about shooting sports to become both Adult Leaders (21 year of age or older) and Apprentice Leaders (age 14-20).

Open your land to public access
Enrolling in Open Fields and Waters (OFW) is a great way for landowners to earn additional income for allowing walk-in hunting or fishing access on their properties. With roughly 97 percent of Nebraska's land-base in private ownership, finding places to hunt and fish continues to be one of the biggest challenges facing hunters and anglers. Open Fields and Waters helps ensure Nebraska's rich outdoor heritage is carried forward by expanding public hunting and fishing opportunities on private lands throughout the state.
Private landowners interested in enrolling their land in OWF should contact their nearest Game and Parks district office:
Lincoln: 402-471-0641
Norfolk: 402-370-3374
Alliance: 308-763-2940
North Platte: 308-535-8025
Join the mentor network
The Nebraska Mentor Network is a group of like-minded individuals who are interested in mentoring new hunters and shooters. This online community provides a place for mentors to ask questions about helping others, learn about upcoming events, and find tips for getting more people into the outdoors. It is easy to join, we welcome anyone with a passion for hunting, shooting sports and helping others learn how to enjoy the great outdoors.

Become a conservation partner
Get involved with one of the partner organizations below to meet others passionate about conservation. Ensure that access and opportunity are available for generations to come.
Nebraska Pheasants Forever is dedicated to the conservation of pheasants, quail, and other wildlife through habitat improvements, public awareness, education and land management policies and program.
Ducks Unlimited is the world's leader in wetlands and waterfowl conservation. Its mission is habitat conservation, including the conservation, restoration, and management of wetlands and associated habitats for North American's waterfowl. Ducks Unlimited plans to achieve its mission through diverse public and private partnerships to address the full range of factors that continue to erode waterfowl habitat across North America.
The National Wild Turkey Federation partners with government wildlife agencies of all levels to improve the health of a variety of critical habitats, including grasslands, forests, and streamside areas. NTWF also works to increase hunter education and access opportunities, as well as to improve public hunting access by acquiring new lands and supporting current state wildlife agency access programs.
The Big Game Conservation Association is a group of local people dedicated to the protection and management of Nebraska's big game species. This is in order to ensure the future of all Nebraska big game. They are non-profit grassroots organizations that will relentlessly preserve the big game species of Nebraska. Not only do they have a commitment to preserve these species but also to preserve their habitat and our hunting heritage.
Hunting Permits
Purchase hunting, big game and turkey permits, as well as supertags and combo lotteries.