Two Tier Program
New pilot program offers option to choose duck bag limit.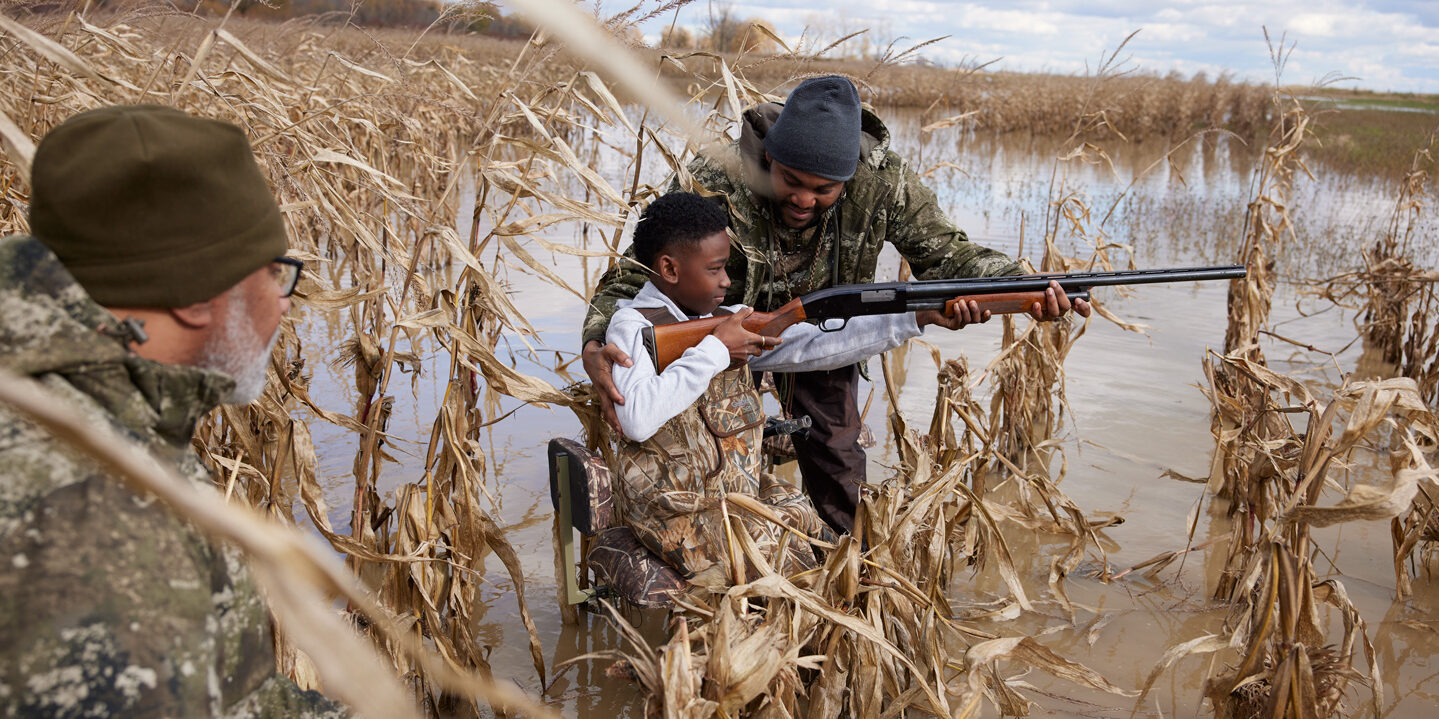 New in 2023: Hunters must register for the Harvest Information Program through their customer profile in the Nebraska Game and Parks permit system. It will be available starting Aug. 1. Log in at GoOutdoorsNE.com.
Nebraska has entered a new duck hunting pilot program with South Dakota. New regulations in both states in March 2021 created two bag-limit categories, or "tiers," for hunters to select from when obtaining their Harvest Information Program numbers.
The goal of the program is to grow the number of waterfowl hunters into the future. The test program runs through 2025, when it will be assessed to determine the effect it had on waterfowl hunter numbers and duck populations.
Bag limit choices
Hunters will be required to select one of two categories for duck hunting season when they apply for their HIP number. These regulations do not apply to goose limits or during the early teal season in Nebraska.
Tier I
The first category, Tier I, is the traditional six duck limit, including all species and sex requirements. The possession limit of three times the daily bag limit, or 18 ducks, will apply. Find the complete set or requirements in the current Small Game and Waterfowl Guide.
Tier II
The second category, or Tier II, is a three-duck limit with no species or sex restrictions. Hunters will be able to harvest three ducks of any legal species. The possession limit of three times the daily bag limit, or nine ducks, will apply. A HIP number will be required to choose this category.
Not sure which to choose?
Required permits
Waterfowl hunters age 16 or older, regardless of Tier choice, will be required to have the following licenses and permits:
Small game hunting permit
Nebraska habitat stamp
Nebraska waterfowl stamp
Federal duck stamp
Harvest Information Program number
Note: Those Nebraska residents under the age of 16 will be required to register for a HIP number to participate in Tier II, but are not required to purchase a hunting license, habitat stamp, state or federal duck stamp.
Hunters from out-of-state, even those under the age of 16, still are required to have all of the permits listed above.
Other resources
Find additional information relevant to your hunt with these Nebraska Game and Parks resources:
Duck identification
A goal of this new program is to help beginning hunters gradually build up their duck identification skills without the fear of breaking the law while in the field.
We recommend these two resources for beginners or waterfowl enthusiasts:
Frequently asked questions
As with any new program, there always are questions. Find the answers to our most frequently asked questions below.
In these experimental regulations, waterfowl hunters will have to make a choice for duck regulations when they register for the Harvest Information Program each year. One choice (Tier I) is for the current, six-duck daily bag, with all the applicable species and sex restrictions. The second regulation option (Tier II) would allow a hunter to harvest three ducks of any species or sex. Find the complete set or requirements in the Small Game and Waterfowl Guide.
While these are the "good old days" of waterfowl numbers and hunting opportunity, concerns about the future number of duck hunters in Nebraska and the rest of the Central Flyway have driven this decision. The age structure of Nebraska duck hunters may indicate a significant loss of participants in the near future. Loss of waterfowl hunters equates to less financial and political support for waterfowl conservation and management as well as the loss of duck hunting traditions.
These experimental regulations are aimed at recruiting and reactivating duck hunters. A major obstacle — with legal ramifications — to new duck hunters is identifying duck species, whether on the wing or in your hand. This regulatory option takes away the worry of a potential mistake until hunters can become more skilled at identification without having to wait for a more experienced duck hunter to take them.
This new change will complement ongoing recruitment, retention and reactivation efforts and could immediately affect a significant number of hunters by providing enhanced opportunities to learn duck identification.
The use of two-tier regulations will start in the 2021-2022 hunting season. Nebraska and South Dakota will offer this experimental season for the next four years. Evaluation of impacts to hunter numbers and participation as well as to duck populations will occur after that four-year period.
No. At the beginning of each hunting season, when registering for HIP, hunters will choose either Tier I or Tier II. After the choice is made, a hunter must stick with that option for the duration of the duck season.
If a hunter makes a wrong choice when registering for HIP prior to the start of regular duck season, a correction will be able to be made by Game and Parks. Once regular duck season has started, there will be no switching between tiers.
No. Duck hunters can choose each hunting season as to which tier or option they want. There is no requirement to "move-up" from Tier II to Tier I.
Yes. This experimental system hopefully will create mentoring opportunities for experienced duck hunters that reduce the worry of an illegally harvested duck. Every experienced duck hunter should take a new duck hunter, old or young, using the two-tier system
Yes. Managers emphasize that duck identification is important for harvest management, but also recognize it's not easy for new hunters — and probably even for some older ones. Managers believe those using the tier system will want to learn what ducks they're shooting. While they build their duck ID skills, the reduced daily bag limit of the Tier II option will protect duck populations.
Yes. Upon HIP registration, hunters are provided their HIP number which will indicated which tier the hunter has selected; by examining the HIP number, conservation officers can determine the appropriate bag limit for that hunter. As always, hunters must keep individual birds harvested separate among hunters.
Yes, youth hunters 15 and younger can choose the simplified tier, but must register for HIP and select the Tier II option. Youth hunters who feel confident in their identification skills can choose the Tier I option, which does not require HIP registration of youth.
Because this experiment is limited to Nebraska and South Dakota, harvest of species like canvasbacks, scaup (bluebills) and pintails will be minimal. The number and species harvested will be monitored to ensure these populations aren't negatively affected.
Hunters who choose the Tier II option will be provided a journal where they will record information on hunting activity and harvest. The journal will be submitted to the Nebraska Game and Parks Commission at the end of the hunting season. In addition, envelopes will be provided to a random sampling of hunters with the expectation that a wing from each duck harvested also will be sent. This process will be similar to ongoing federal collection efforts to estimate harvest. Duck harvest and species composition will then be compared to hunters using the Tier I option.
Possessions limits are not affected for either regulatory option. They will remain three times the daily bag: 18 for current six-duck daily bag (see bag limit restrictions in the current guide), and nine for the reduced-bag-limit option.
No. The two-tier system will not apply to the September teal season. Teal seasons require proper duck identification to limit non-target take of other species.
The two-tier system will not apply to goose daily bag limits or seasons. Identification of goose species is much easier than for ducks.
No. All waterfowl hunters over the age of 16 will be required to purchase a Nebraska hunting license, habitat stamp, Nebraska duck stamp, and the Federal Migratory Bird Hunting Stamp (Duck Stamp). Hunters under the age of 16 wanting to use the Tier II option will need to register for HIP.
The HIP registration screen asks whether a hunter intends to hunt ducks. Those who check "no" will automatically be listed as Tier I, which will be reflected in their official HIP number.
Request a hunt record form: Tier II hunters only
Diaries will be sent prior to the regular season opener; this request is for hunters who have used up those materials.
Request a new hunt record form or journal:
What drove the decision
Waterfowl hunter numbers have declined significantly within the past 10 years. Many factors are associated with this including the harvest restrictions for certain species and sexes of ducks, which puts pressure on new or inexperienced hunters to be able to correctly identify waterfowl during the thrill of a hunt. Duck identification can be difficult and could be preventing potential hunters from getting into the sport.
To help address the issue, the U.S. Fish and Wildlife approved the two-tier Harvest Information Program system in October 2020. Nebraska and South Dakota will test the new system starting with the 2021 duck season for four years. If a success, the program will be extended beyond 2025 and to additional states.
Season dates
With a broad diversity of species and seasons, hunters in Nebraska can have a busy year. Find our comprehensive list of season dates by species.