Rent a facility
Have your next event at a Nebraska state park area.
Nebraska state parks offer fantastic locations to host conferences, meetings, retreats, family reunions and weddings. State park areas provide first-class facilities amid a peaceful, beautiful backdrop for groups wishing to get away from it all.
Bring your board of directors, planning committee, employees, or organized group out for a meeting at a Nebraska state park. Your group is sure to enjoy the change in scenery, the relaxing atmosphere, and the natural beauty Nebraska state parks offer. With hotel-style lodge rooms, cabins and mini-lodges; modern amenities; and many options for conference rooms and catering, it's easy to find the perfect setup for your group event at a Nebraska state park.
Let your team think outside! Outdoor activities are an important tool to bring new energy to your team. State park areas provide an opportunity for your group to interact in a non-stress environment and develop valuable team-building skills. By participating in a variety of recreational opportunities, groups will develop skills such as trust, communication, accountability and commitment.
State parks that offer full-service meeting facilities and an experienced team to help with the planning:
Nebraska state parks offer some of the state's premier wedding destinations. The combination of beautiful settings and spacious and beautiful reception rooms and lodging facilities, makes a park setting the ideal backdrop for a couple's big day.
Many state parks offer first-class facilities that can accommodate both small, intimate weddings and larger weddings and receptions along with first-class lodging, catering and even a group function coordinator to assist with accommodations.
State parks that offer full-service meeting facilities and an experienced team to help with the planning:
Nebraska state parks offer a wide range of affordable family reunion or company picnic facilities with open spaces to enjoy fun recreational activities including golf, horseback riding, swimming, and winter activities, with ice-skating, sledding, ice fishing and cross-country skiing opportunities. Nebraska state parks are particularly popular family reunion destinations. In fact, Fort Robinson State Park, in the beautiful Pine Ridge, has been named one of the nation's top family reunion spots by USA Today and other publications.
Picnic shelters are great gathering spots for family reunions or company picnics. Many parks have shelters of various sizes to accommodate small and large groups alike. Shelters offer picnic tables, electricity, charcoal grills and parking. Eugene T. Mahoney and Platte River, are particularly popular spots to host company picnics and are conveniently located between Omaha and Lincoln. Nebraska state parks provide an array of activities for all ages, as well as picnic pavilions, overnight lodging and camping.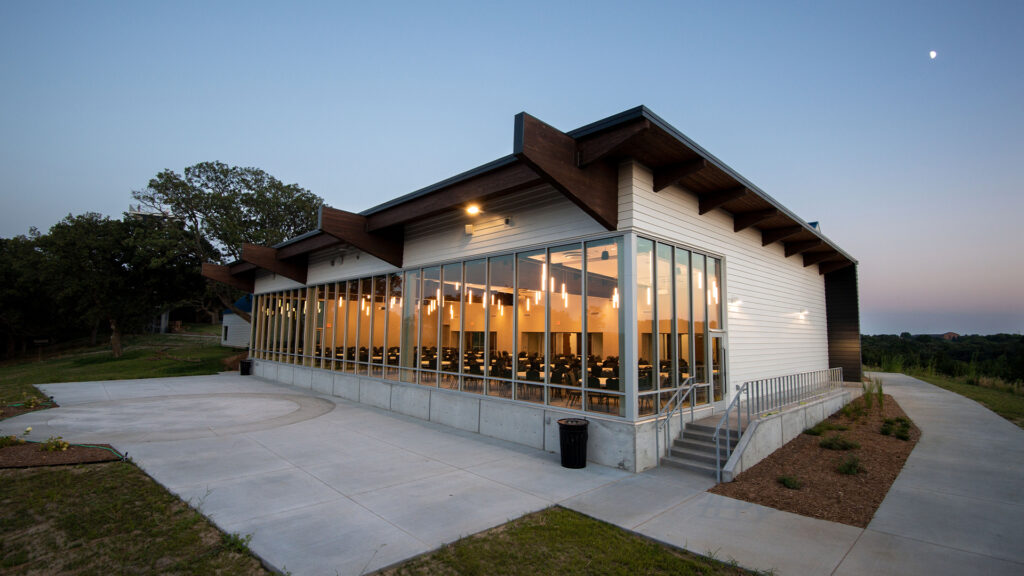 Crete Carrier Riverview Lodge
Located at beautiful Eugene T. Mahoney State Park, which is conveniently situated between Omaha and Lincoln, the Crete Carrier Riverview Lodge is a 11,600-square-foot, multi-function event space that takes advantage of a stunning hilltop location overlooking the Platte River Valley. The event hall and large patio provide sweeping panoramic views and room for up to 300 guests. The lodge can accommodate a variety of large events, including weddings, family reunions, corporate meetings and more.
Make a Reservation
Because planning a group event requires special attention, we ask that you contact the Game and Parks reservation call center or the park directly to begin planning your special event. The Reservation Call Center is open Monday- Friday from 9 a.m. – 6 p.m. CT
Park Pricing
A park entry permit is required to visit state parks and may be purchased at the park, statewide Game and Parks offices and permit vendors, or in advance of your arrival online. View those fees, as well as attraction and amenity pricing.