Family-friendly lakes
Family-friendly lakes are safe, comfortable and have great fish-catching potential!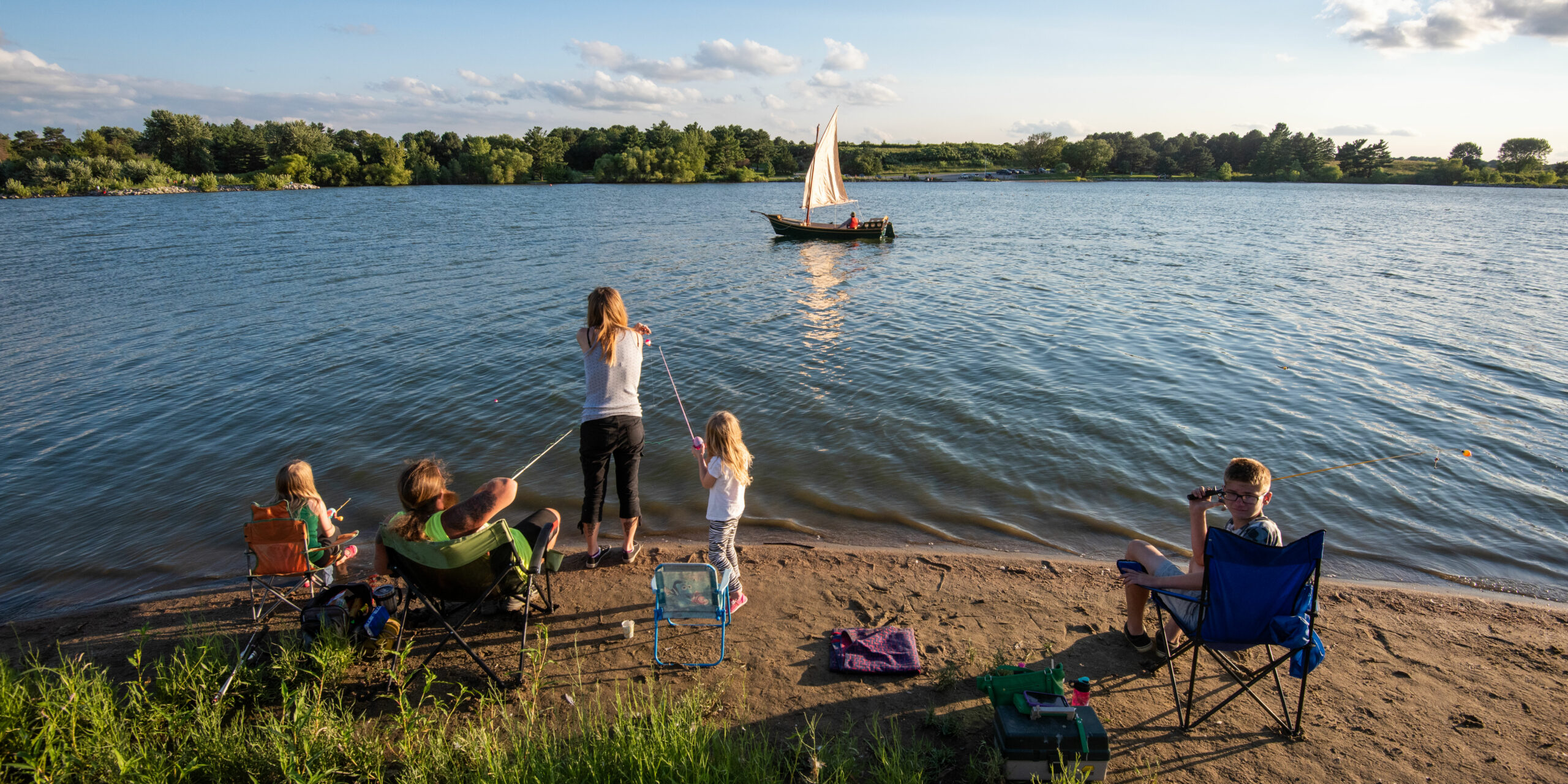 Family-friendly lakes are safe, comfortable and have great fish-catching potential. These locations have a combination of barrier-free fishing access, fishing piers, fishing trails, groomed park areas, concessions, playgrounds, picnic shelters and highly maintained fish populations.
If you are planning a family fishing adventure, use the interactive map below to locate family-friendly lakes by using the filter system in the top right.
Plan your next trip
Here are nine family-friendly fishing lakes to add to your list of top places to go with the little ones.
Bessey Fish Pond
Halsey
This small sandpit lake is located on the Nebraska National Forest at Halsey, making for some beautiful scenery. Anglers can catch bass, bluegill, some large channel catfish, and trout in fall and winter. The area features a nice fishing deck with a concrete path leading to it, as well as campgrounds, a playground across the river by the visitor's center, and restrooms. Take the weekend and camp in the forest!
Fort Robinson State Park
Crawford
Several fishing lakes can be found near Fort Robinson State Park and all have great angler access, thanks to a major renovation project. Expect to catch primarily bass, bluegill and trout, and to enjoy the scenery – it's some of the best in the state. Make sure to take advantage of everything else Fort Robinson has to offer, including camping, historic lodging, swimming, hiking, equestrian trails and more.
Hershey Wildlife Management Area
Hershey
If you're headed across the state on I-80, stop to wet a line; there are dozens of lakes within casting distance. One of them is the 53-acre lake at Hershey Wildlife Management Area, which in recent years produced the most trophy-size fish of all the I-80 lakes in western Nebraska. Here, you can catch bass, bluegill, channel catfish, and perhaps rock bass, crappie, walleye and pike. The lake boasts several angler access improvements, including an improved boat ramp.
Holmes Lake
Lincoln
Located in one of the state's biggest population centers, Holmes Lake sees a lot of use but is still a great place to fish. Take the kids and go catch bluegills, or cast for crappies, largemouth bass, channel catfish, walleye and trout, which are stocked in fall, winter and spring. Holmes Lake also features two concrete boat ramps and an accessible dock, and has plenty of other attractions to keep the family busy, including walking trails, playgrounds and volleyball courts.
Lake Halleck
Papillion
Lake Halleck, located in Papillion is a good little city lake. It's part of Halleck Park, which offers 70 acres of parkland as well as playgrounds, restrooms, hiking paths and a ball diamond. Take a break from fishing to enjoy some pickleball, horseshoes or sand volleyball. Anglers can expect to catch bass, bluegill and channel catfish, and rainbow trout are stocked seasonally.
Lakes Ogallala and McConaughy
Keith County 
These two state recreation areas offer opportunity for a day-trip or weekend getaway that includes fishing. Trout can be caught from the shorelines or fishing docks of Lake Ogallala, or spend time on Lake McConaughy's sandy shores and fish for just about anything. Bring your sand toys and build a castle while you wait for a bite.
Optimist Lake
Auburn
Optimist Lake has a walking trail around the lake and a nearby playground, campground and ballpark. Trout are stocked in October and March. Fall City, Nebraska City and Humboldt are other area towns with similar ponds.
Ponca State Park 
Ponca
Ponca State Park has a 1-acre pond with a boardwalk to fish from and mowed grass shorelines. Fishing rods and reels can be checked out at the visitor center to catch trout and panfish. Consider spending a weekend in the cabins or campgrounds and visiting the Lewis and Clark Museum displays while you are there.
Skyview Lake
Norfolk
Located in Norfolk, Skyview Lake is one of the state's urban waters, located in a major city. Much like Holmes Lake, it has a lot to recommend it to families planning a day of fishing: picnic shelters, a playground area, hike-bike trail and restrooms. Within Skyview's 50 acres, you can catch bass, bluegill, crappies and channel catfish, and an accessible deck is available, too.
Fishing Permits
Purchase stamps, resident and non-resident fishing permits here.