Master Angler Award
Submit your trophy-sized catch for a Master Angler Award and potentially qualify for the state record fish. Fill out your application here or view state fish records.
Master Angler Program
If you make an outstanding catch, it may qualify for a Game and Parks Commission Master Angler Award. Nebraska has one of the most popular angler recognition programs in the country. Thousands of Nebraska anglers qualify as Master Anglers by catching trophy-sized fish each year. See the Master Angler Award rules and an application form below.
All fish must be taken from Nebraska waters.
Fish must be taken by hook and line. Fish caught on banklines are not eligible. Fish must be hooked, played and landed by the applicant for the award.
The catch must be verified. This may be done by an employee of the Game and Parks Commission, a permit vendor, a witness or a photograph.
Anglers 16 years of age or older must possess a current Nebraska fishing permit and enter the permit number on the application.
Only fish immediately released are eligible for an award based on length. Any fish kept in a live well or on a stringer must meet the minimum weight requirement to receive an award.
Anglers may receive only one award, based on weight, per year for each species. There is no limit on the number of awards per year based on length.
Anglers who release a Master Angler fish will receive a "Catch and Release Master Angler" pin, in addition to the Master Angler certificate.
Minimum weights must be met to qualify for a Master Angler Award for a harvested fish.
Minimum lengths are used strictly for Master Angler Awards for an individual fish that was caught and released.
Species; length; weight
Bass – Largemouth; 20 in.; 5 lbs.
Bass – Smallmouth; 18 in.; 3 lbs.
Bass – Spotted; 18 in.; 3 lbs.
Bass – Rock; 11 in.; 1 lb.
Bass – Striped; 32 in.; 10 lbs.
Bass – Striper hybrid; 24 in.; 8 lbs.
Bass – White; 17 in.; 2.5 lbs.
Bluegill – 10 in; 1 lb.
Buffalo – 26 in.; 10 lbs.
Bullhead – 15 in.; 2 lbs.
Burbot – 16 in.; 1 lb.
Carp – 32 in.; 15 lbs.
Catfish – Blue; 40 in.; 30 lbs.
Catfish – Channel; 30 in.; 12 lbs.
Catfish – Flathead; 32 in.; 15 lbs.
Crappie – 15 in.; 2 lbs.
Drum – 22 in.; 5 lbs.
Eel – 24 in.; 1 lb.
Gar – 40 in.; 8 lbs.
Goldeye – 16 in.; 1.5 lbs.
Muskie/Tiger Muskie – 40 in.; 15 lbs.
Paddlefish – 45 in.; 50 lbs.
Perch – Yellow; 13 in.; 1.25 lbs.
Perch – White; 12 in.; 1 lb.
Northern Pike – 36 in.; 10 lbs.
Sauger – 21 in.; 3 lbs.
Saugeye – 23 in.; 5 lbs.
Shovelnose Sturgeon – 28 in.; 2.5 lbs.
Sucker – 18 in.; 2 lbs.
Sunfish – 10 in.; 1 lb.
Trout – Brook – 14 in.; 1 lb.
Trout – Brown – 22 in.;4 lbs.
Trout – Rainbow – 23 in.; 5 lbs.
Walleye – 28 in.; 8 lbs.
Master angler application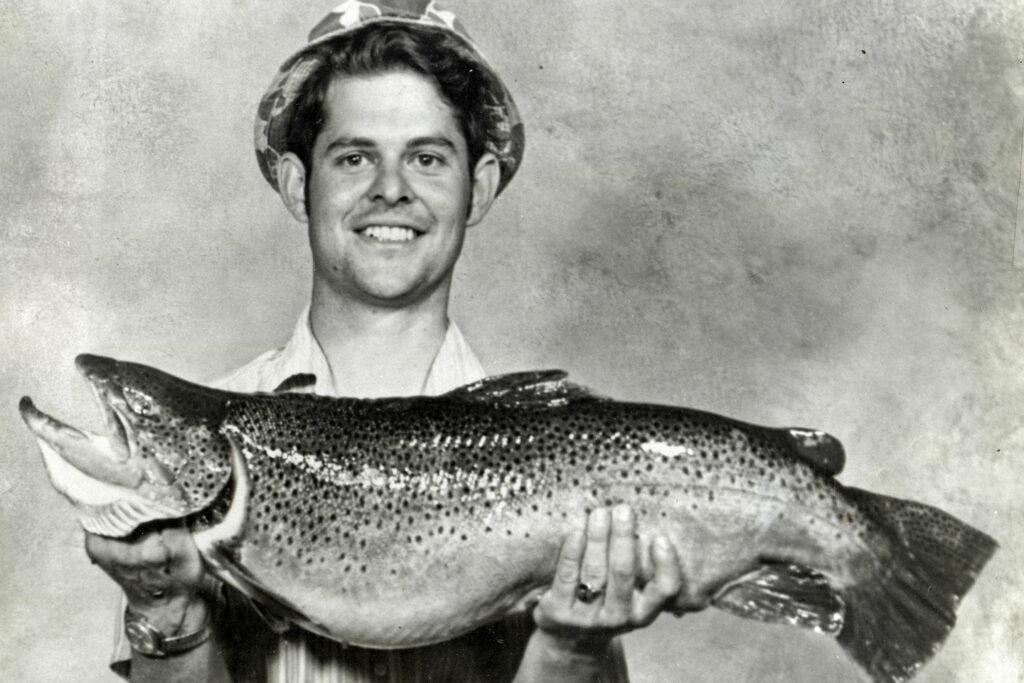 State record fish
More than 70 species of fish have been recognized as state records in Nebraska. These fish are the largest specimens documented to have been caught by rod and reel or taken by bowfishing, underwater spearfishing or surface spearfishing. Take a look at the list of these trophy fish, compare your biggest catches and then review the rules because you never know when you might catch the next state record.
Fishing Permits
Purchase stamps, resident and non-resident fishing permits here.