Nebraska Monarch and Pollinator Conservation Plan
This Nebraska plan aims to conserve and grow monarch populations to avoid the need for a threatened or endangered species listing.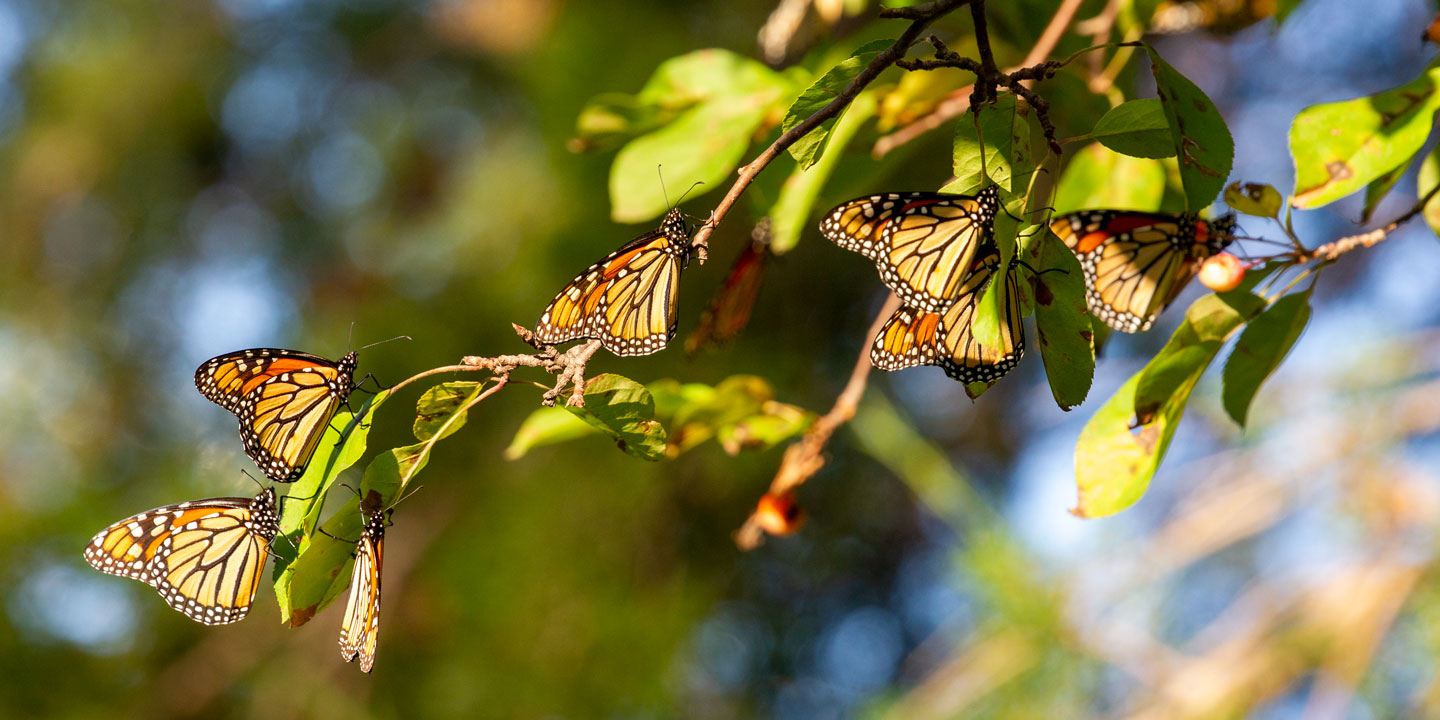 In order to develop an effective conservation strategy for monarchs and other insect pollinators, a team for this planning project reached out to stakeholders with the goal of being all-inclusive. Input weaved into this plan came primarily from conservation practitioners, government organizations, non-government organizations, agricultural groups, businesses, and educators who met to express their ideas and concerns at a summit in Lincoln, Nebraska, in February 2016. With partners communicating and in many cases working collaboratively to conserve habitat for monarchs, we may be able to conserve the species' migration and breeding by growing population levels to a stable size, and avoid a need for threatened or endangered listing.
Nebraska Monarch and Pollinator Conservation Summit
In February 2016, 55 organizations and businesses gathered at the Nebraska Monarch and Pollinator Conservation Summit to provide input used to develop the plan shared above. Participating groups included:
Center for Rural Affairs
City Sprouts
Congressman Jeff Fortenberry's Office
Crane Trust
Creighton University
Federated Garden Clubs of Iowa, Inc.
Friends of the Niobrara, Inc.
Glacier Creek Preserve
Great Plains Nursery
Green Bellevue
Homestead National Monument
Lancaster County Engineer
Lincoln Parks and Recreation
Lincoln Public Schools
Loveland Garden Club
Metropolitan Community College
Monarch Flyway
Monarch Gardens
Monarch Watch
Monsanto
National Park Service
Nebraska Association of Resource Districts
Nebraska Corn Board
Nebraska Department of Agriculture
Nebraska Department of Roads
Nebraska Ducks Unlimited
Nebraska Environmental Trust
Nebraska Extension, Lancaster County
Nebraska Farm Bureau
Nebraska Farm Service Agency
Nebraska Game and Parks Commission
Nebraska Land Trust
Nebraska Nursery and Landscape Association
Nebraska Pheasants Forever, Inc.
Nebraska Soybean Association
Nebraska Statewide Arboretum
Nebraska Sustainable Agriculture Society
Nebraska Weed Control Association
Nebraska Wildlife Federation
Northern Prairies Land Trust
Omaha Public Schools
Omaha's Henry Doorly Zoo and Aquarium
Prairie Plains Resource Institute
Sandhills Task Force
Save Our Monarchs Foundation
Spring Creek Prairie Audubon
Syngenta
The Nature Conservancy
University of Nebraska–Lincoln
University of Nebraska–Omaha
U.S. Army Corps of Engineers
U.S. Department of Agriculture, Natural Resources Conservation Service
U.S. Fish and Wildlife Service
Wachiska Audubon Society
Xerces Society for Invertebrate Conservation