Tyler Vanderheiden Memorial Run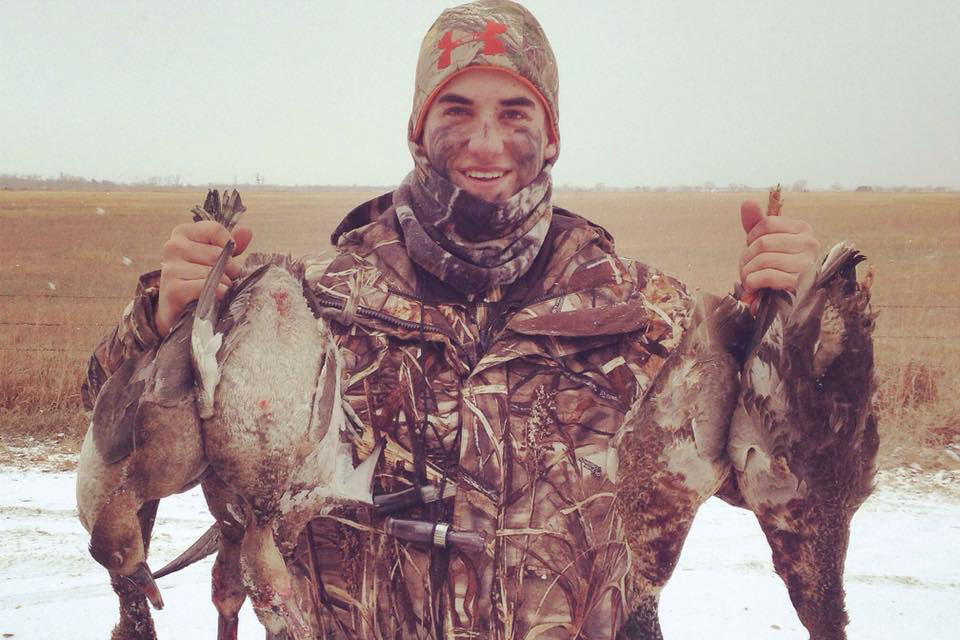 Trails Fundraiser
In honor of their son, the Tyler Vanderheiden family, together with the Platte River Fitness Series, hosts an annual running or walking race that acts as a fundraiser for the creation, maintenance or upgrade of trails in our state parks trails. The event is aimed at raising awareness and understanding of mental health.
About the Race
May 20, 2023 at Cody Park, North Platte, NE
The Tyler Vanderheiden Memorial Run offers two unique distances — 2 miles or 5 miles — for athletes. The run raises awareness that walking and running are effective tools in the battle for mental and emotional wellness, and that these activities are vital to helping address mental health and suicide prevention in central Nebraska and the United States. Those who participate are lending their support to this cause that touches nearly every family in the country.
The event is organized by the Platte River Fitness Series with support by West Central District Health Department. It is their goal to see runners from every county in Nebraska and every state in the country participate in-person or virtually in the race.
Annual Trails Projects
Smith Falls State Park
Funds raised from the 2023 race will help support the construction and upgrade of the Smith Falls State Park trail and walkway that leads to Nebraska's highest waterfall. Improvements are aimed at replacing the aging wooden walkway with a more durable composite decking with steel framing. The new walkway will be Americans with Disabilities Act compliant.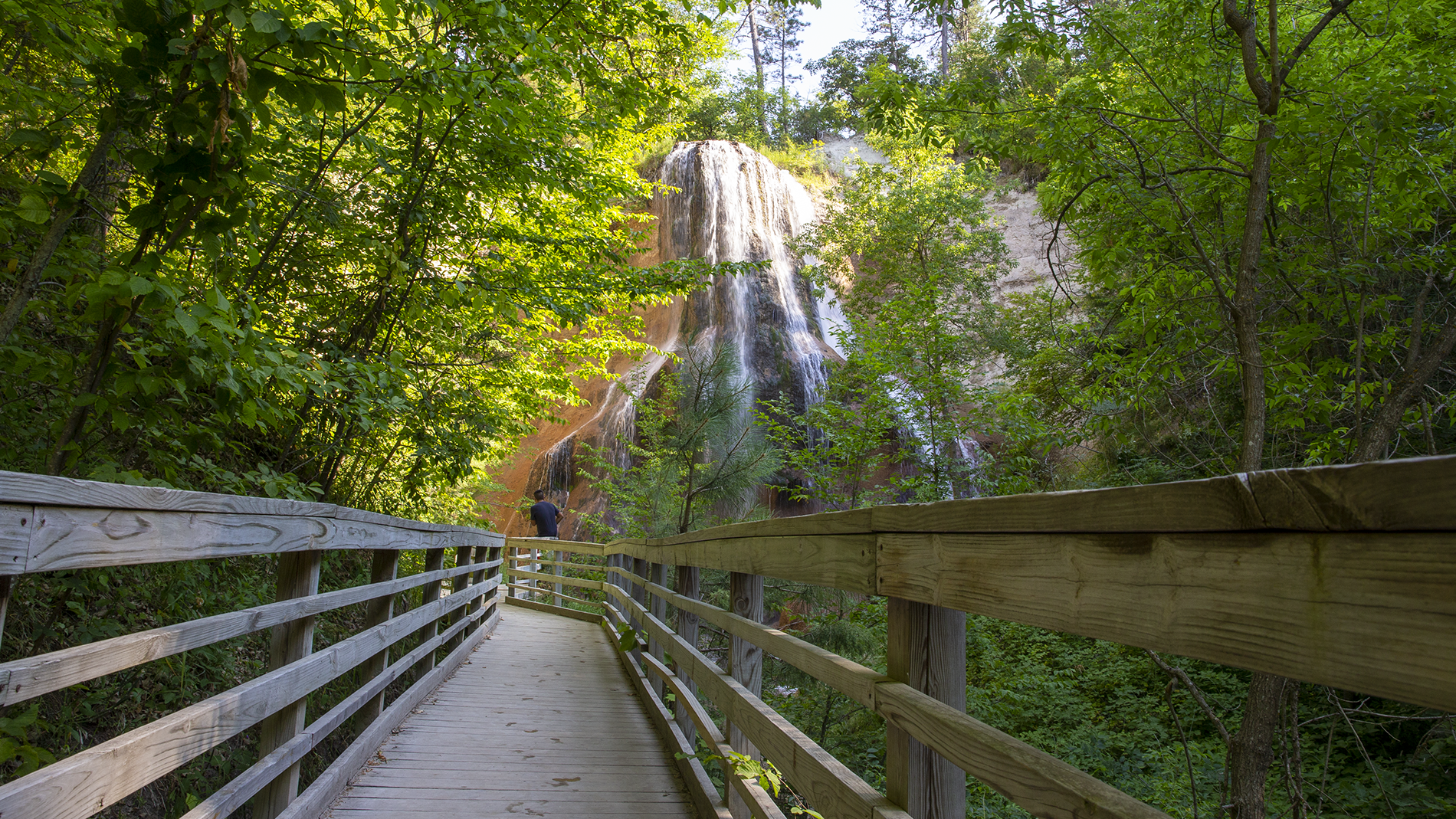 Platte River State Park
The 2022 Tyler Vanderheiden Memorial Run raised more than $8,000 for Nebraska Game and Parks state park trails. The donation triggered access to up to $32,000 in matching federal Recreation Trails Program funds for improvements to the trail leading to the iconic waterfall at Platte River State Park — one of the top-photographed spots in the state and a popular family-friendly location in the serene river valley.
The trail and waterfall are accessed year-round by parkgoers and soon it will be able to be enjoyed by visitors of all ages and abilities thanks to the generosity of donors and partners, such as the Platte River Fitness Series and the Vanderheiden family; the federal Recreational Trails program funds; and agency cash funds.
The $1.1 million improvement project will include the construction and upgrade of the existing Stone Creek Falls Trail to allow for Americans with Disabilities Act access. The proposed work will feature a long wooden boardwalk, 1,320 feet of packed limestone trail surface, a creek overlook, a deck overlook at the waterfall, an ADA-accessible bathroom, and parking lot with a map plaza and benches.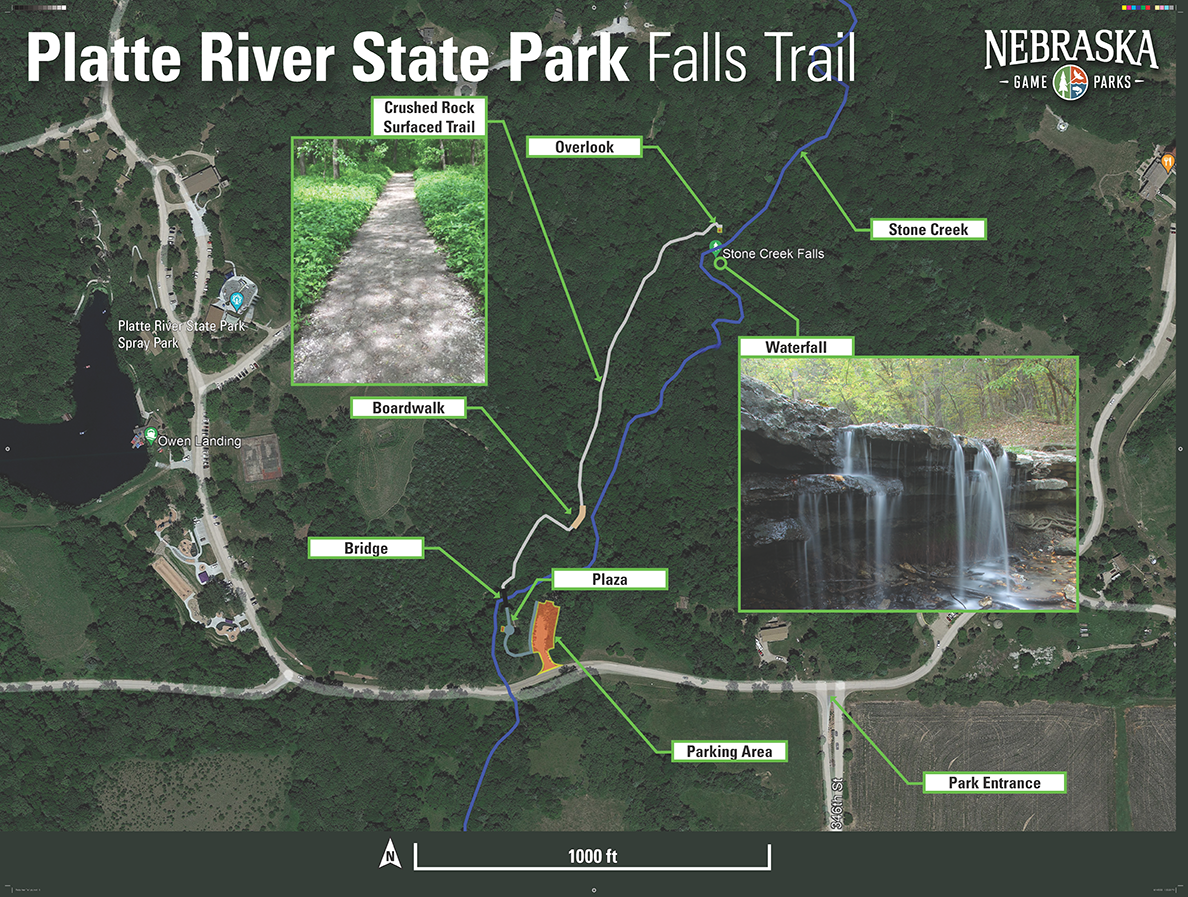 Thank You Participants
Trails are important to our quality of life and are a great place for us to improve our overall wellness and mental health. They also help us get in touch with nature and view wildlife. Your Nebraska State Parks offer diverse trails that can be enjoyed in all parts of the state.
Our ability to maintain, improve and expand those trails is greatly enhanced when supportive donors — like those who ran and who will run the Tyler Vanderheiden Memorial Run; volunteers; and public-private partnerships join our mission. Because of that support, several trail improvement projects at park areas across the state are planned to provide better accessibility and improve trail-users' experiences.
Park Events
Our 76 gorgeous state park and recreations areas host a plethora of events throughout the year. From bird hikes to kayak races, Living History events to family outdoor days, our parks host something fun for every outdoor enthusiast.